The Script Live in Manila 2018
Hi Lads! I'm so excited to see you performing live. This is one of my dream concert list. The first is conceet that I already attended is Coldplay. The second one is The Script and my next will be Paramore on Aug 23th. Fangirling is here! So here's the question why should we like The Script? Okay I let you know!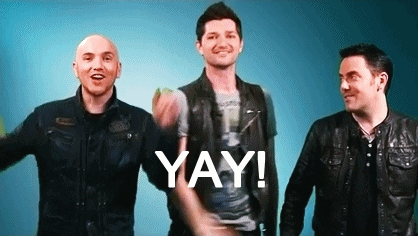 Here's the reason! I like The Script so much because from their song title The man who can't be moved and Breakeven. When I heard that song I imagine myself as Danny girl. Danny O' donugue is singer vocalist of The Script. He's handsome but of course I love Chris Martin too the Coldplay Vocalist! "Ang Landi ng Lola mo! 😂😂 .I'm a fan of The Script since high school days because I love alternative music so much. when they announce their Asian tour last November 2017 My heart beat so fast this is it. Last 2015 unfortunately I didn't attend their concert because that time I don't have a work "Palamunin pa si ako non!" 😂😂. Then Last November I decide to watch their concert on April because I love watching Band concerts!
About their songs!
When The Script became popular so I wonder to listen their other's songs. Aside from the The man who can't be moved and Breakeven. I listen other songs with the different Album. My favorites are For the first time, 6 degrees of separation, Science and faith but the most favorite for all time is Millionaires. Now there release their new album Freedom Child. This album is different from the previous album that they release. You should try to listen them on YouTube.
As I already mention I didn't attend their concert last 2015, so last year November the ticket selling. I ask my friend to buy me a ticket and then I'll pay it after my salary! HAHHAHAHHAHA "Kapag minamalas ka nga naman oh!" because that time I don't have a salary but I have a job already 😂😂😂 so I ask him to buy me a ticket Lol HAHAHHAHA 😂😂😂 "Kapalan ng mukha." He's a part of #TeamGA concert buddies. I' am Lucky because he buy me a ticket lol! Even he always bullying me. He give me a chance to watch The Script! " Ang saya lang!" he's avid fan of the script.
April 14 2018
This is the day! I go to the Arena for the first time because last year the Coldplay perform at MOA Grounds "The parking lot" then this is the first time that I enter at MOA Arena. Together with my concert buddies #TeamGA they decide to bonding first before enter the arena "as always!" then after that here's gonna happen.
When I enter the Arena. I'm on the Balcony section. I feel the intense because I have heights issues! "You know what I mean! I'm scared of heights LOL! "Nalulula ako beshh!" But anyways This is it. I see my Danny performing live and I just shout and scream I LOVE YOU DANNY 💕💕HAHAHAHHA 😂😂😂 to remove my tense but honestly I feel the tense and I'm scare of heights HAHAHHAHA! 😂😂😂 But I enjoy the concert. I sing my favorites songs, I feel the crowd singing and shouting and of course I hear the love voice of Danny.
When you go to concert honestly don't mind about the seating sections. You need to enjoy the every moment that happen in the concert. That's why music is powerful and inspiring. I love music so much and I love attending concerts that can bring me happiness.
Check my video on YouTube sorry the video has low quality and you can hear my voice AHAHAHHA
😂😂
Paramore is my next gig on Aug 23th 💕💕
This is my second time that I watch one of my favorite band concert. It makes an incredible moment when I heard them performing live. It was amazing that watching international concert makes the best moment ever. I was enjoy already and I will treasure this forever and ever. Then I will wait until their come back soonest.😊😊😊 Thank you lads for making me happy. 😊😊😊
From: Your Fan Maysz 😍😍💗💗