Current Mood: Inspired.
    On Track: ILYSB Lany
     🎶
Oh my Hearts hurt so Good I love Babe so Bad so Bad
🎶
  Typingg...
 I want to repost this one! as throwback. Well This event happened last Aug 6 2017 and that's my birthday. Lany has fist mall show here in Philippine last Aug 2017. As you can see this blog publish on Last Aug 31 2017 HAHAHAHHA! I don't want to create a new blog post for this because this already happen. but anyways. Who's Lany? Who are they? Are you familiar of this Band?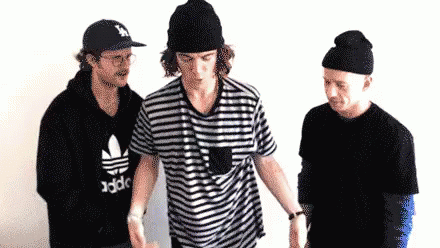 Paul Klein,
"The singer vocalist"
Jake Cross,
"The Drummer"
  and Les Priest "
Guitarist"
They are member of Lany. Their genre is about American electronic music. from their album "Dumb Stuff" Most of their songs they are romantic and electronic. ALAVV IT💓💓                                                   
            Mall Showing.
               Aug 4-    Glorrieta 7pm        
               Aug 5-    Greenbelt  3pm
                         -    Alabang Town Center 7pm
              Aug 6-      Market Market  3pm
                        -      Trinoma    7pm
      Since they are mall showing if you want to chance to meet and see there in front you need to purchase of any grocery items or any items worth of Php 1000 to Ayala malls department store to get the ticket. But mostly since I 'am the practical one! I'll go early in Trinoma
" Dahil doon ako manonood!" 
no purchase anything instead I just watch outside the barricade because in trinoma malls has 4 floors so for me that's very nice to watch upstairs.
So  I need to get a very nice space for their concert. Yes I admit I am the Fan girl one
" Fangirl ng taon teh!"
HAHAHHAHA. Then Aug 6 is their mall showing concert and also that's my birthday.
      Mostly I like their songs and my favorite songs from their album Dumb stuff is ILYSB, Superfar, The Breakup, Pink skies 💓 I feel so in love at this Moment!
OMGG 😍😍😍 Why your so Handsome PJK!💓 "ang pogi pogi mo!
On Track: Super Far
           🎶
  Don't be mean if you wanna go
              You can leave and leave my heart alone

             Waking up to nothing when you're super far from home
             And I watch you fall asleep at night and lay there on my own
             Got me begging for affection
            All you do is roll your eyes
            Broken down, I've had enough
            If this is love I don't want it🎶  
          The Breakup and Hericane!  
       I feel the broken heart when Dua lipa broke up to PJK I feel the sadness of PJK because we all know that PJK love Dua lipa so much so this could make me triggered so much 😡😡 But of course when need to respect both side because they are artist so when need to moving forward about this matter. No hate no fights because of their idols that's not a good thing!
" I guess"
On Track: The Breakup.
🎶 You think you wanna be, you wanna be alone
Just wait until you're crying on the shower floor
It hits you in the chest, 'bout how every day you're alone
Cause once you let it go, you better know it's gone
It's never the same, love, yeah, after the breakup
It's never the same, love, don't try to make up.
'
Ok so Back to Concert Topic na Aug 6 @ 3pm I'm going to Trinoma I'm so excited that time because that's my birthday also. I love attending concerts gigs! Then that's sunday so no traffic at all. after 2 hours I meet ethel from  #TeamGA " My concert buddies!" Then before the concert start we meet Jhu. Then 7pm the concert already started I feel the happiness
" Eto yung masayang birthday ko ganon!
this is my first to attend mall concert. and I just wanna say this grateful.   
Picture Taken at @ trinoma mall during Lany Concert
                                                 Together with Jhu and Ethel. #teamBarracade        
   Ok Here's the Video During Concert.
 Video was not Mine Credits to the Owner po sya.
I have mine but they posted on my social media accounts.
            I'm so very happy that I' am a Part of their concert. As a team barricade super enjoy. Priceless the moment I see them performing live without purchasing ticket Lol! 😂😂 Aside for that I see PJK and other member of their Band! My heart beat so fast. I am looking forward to see them performing inside the Arena.
"Crossfingers!" 
This is one of my nice birthday. 💓💓
 Hi Guys if you have time just listen their songs. Its very Creative and Romantic ..
Thank you.